Cranial and Craniosacral Chiropractic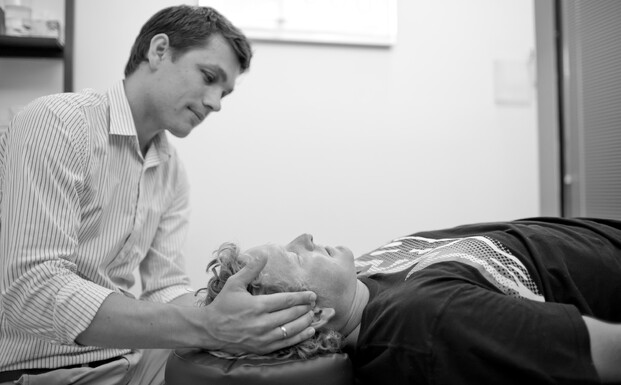 Cranial Chiropractic Technique
Cranial Specific Technique or Cranio-sacral therapy is part of the approach of Sacro Occipital Technique (SOT). This involves gentle pressure applied to the skull in specific ways and over specific areas to release tension and improve function. The amount of pressure is similar to what you might tolerate on your closed eye. Because of the gentle nature of this technique, it is preferred by people who would rather not be 'cracked' and our experience is that this technique is also very suitable for young infants and children (when indicated).
The Chiropractic techniques used at Geebung Family Chiropractic are safe, gentle and effective for a range of issues people experience.
Many people consult Chiropractors for headaches, migraines and neck issues and these typically respond well to the techniques we use. We assess each patient as an individual to assess their concerns and problems specifically. Through a thorough consultation and examination, our Chiropractors will assess if your headaches or neck pain are likely to respond to Chiropractic care.
To book an appointment with one of our Chiropractors, please call 07 33594510.
Our Chiropractors
All of our Chiropractors use a range of chiropractic techniques to make sure each patient's specific needs are met. Our aim is to provide the best chiropractic and health care, using the most proven chiropractic techniques, to help you heal, become healthy and stay that way. The Chiropractic techniques we use include Sacro Occipital Technique, Cranial Specific Work, Diversified Manual Adjustments and Activator Instrument Adjusting. These techniques allow us to care for people of all ages. This includes newborn babies, pregnant mothers, adolescents and adults.
We are proud to be in service of the Brisbane community and to be able to provide the best standards of Chiropractic care. Geebung Family Chiropractic is located on the north side of Brisbane near Chermside. Our address is 117 Copperfield Street, Geebung QLD 4034.
We are a registered Chiropractic provider for most health funds, including being a preferred provider for BUPA and Medibank Private. We also participate with DVA & Medicare EPC plans with GP referrals.